When it comes to finding inspiration, books make a great go-to source. These days my reading selection is generally limited to whatever titles my book-loving daughter chooses, so I have to thank her for this baby shower idea based on the book,
Nursery Rhymes: well-loved verses to share
, illustrated by Susie Lacome.
Over the past few weeks, this has been one of her favorites. She loves the rhyming and the collage-like pictures printed to look like fabric stitched on the page. As we read one day, I noticed fabric bunting decorating the top of one of the pages, and knew it would be the perfect starting point for a baby shower theme.
With its colorful gingham pages, sweet embroidered illustrations and familiar verses, this book makes a great gift and theme. You can use for a boy or girl, so I've tried to make my choices gender-neutral, although sometimes I just can't help choosing pink.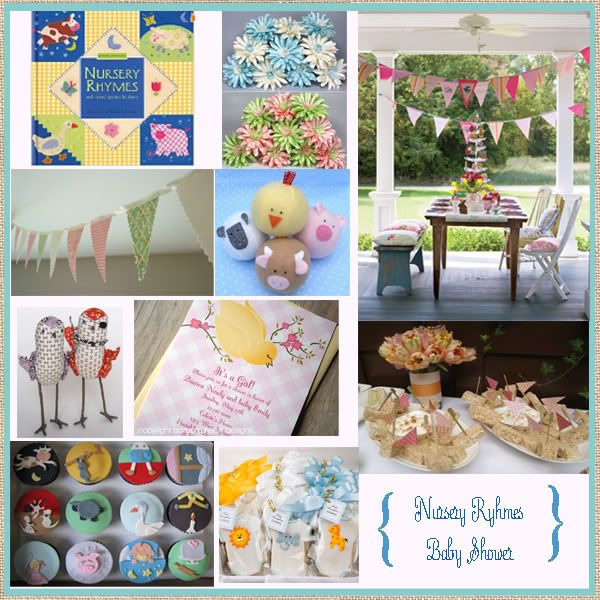 Inspiration

:
Nursery Rhymes: well-loved verses to share
from
Amazon
centerpieces

:
paper flower kits
from
Paper Platypus
party setup:
porch party
from
Country Living
paper flags for food
:

via
Party Perfect
sugar cookie party favors:
Truly Scrumptious Cookies
nursery rhyme cupcakes:
A Baked Creation
handmade birds:
Ann Wood

gingham invitation:
Lil Birdie shower invitation
from
bndesigns
fabric bunting:
Twig & Thistle

felting animals:
barnyard ball sewing pattern
from
Pattern Play