So, here it is Tuesday and I haven't posted since last Thursday. I didn't intend to take a mini-break, but sometimes life happens, you get busy, you have some fun and you just gotta roll with it, right?
I don't usually post inspiration boards on Tuesday, but I am today because I've had the idea for a summertime picnic floating around for a while now. I first saw the image of the bicycle with picnic basket over on
Oh, Hello Friend
and knew I wanted to create a board around it.
This summer picnic is great for a warm July afternoon. There's a handmade quilt to lounge on while you sip cool lemonade out of a glass drink dispenser using cool striped straws. The food is simple: Greek salad roll-ups and fruity meringues. There is even a sweet little oilcloth bag to carry any leftovers home.
Sometimes I'm amazed at how well these boards come together. As I started putting things together, this red and green color scheme just sort of developed on its own and all the images I liked amazingly fit right in. I'm so glad the look doesn't come across at all Christmas-y. Instead, it's more like the perfect ripe watermelon -- summery and fresh.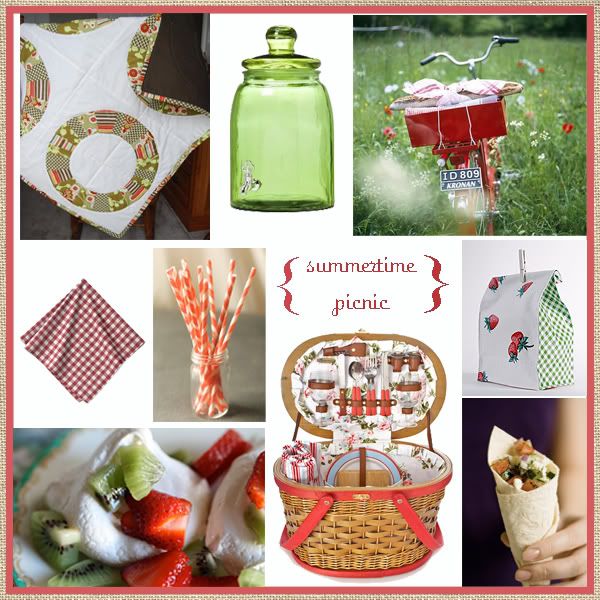 olive rings quilt
from
Tiptoe Studio
;
recycled glass beverage dispenser
from
Target
; bicycle picnic from
Oh, Hello Friend
via
Oh So Beautiful Paper
;
oilcloth lunch bag
from
Martha Stewart
;
Greek salad rolls
from
Sweet Paul
; picnic basket from
CSN stores
via
Country Living
;
strawberry and kiwi meringues
from
Joy the Baker
;
gingham cloth napkins
from
Williams-Sonoma
; straws from
Kikkerland
via
Oh Happy Day