I'm trying something a little different with
Friday Favorites
. Instead of talking about one blog every week, I'll start to share some of my favorite finds from around the web. Some weeks will still feature a blog I just have to tell you about, but I like the flexibility of posting different things I'm loving at the moment.
Since tomorrow is Independence Day, this
Friday Favorite
is all about easy and quick ways to dress your tables and buffets for a patriotic feast. And, they really are easy peasy – all you have to do is download and print, or decorate pieces you already have with a little red, white and blue.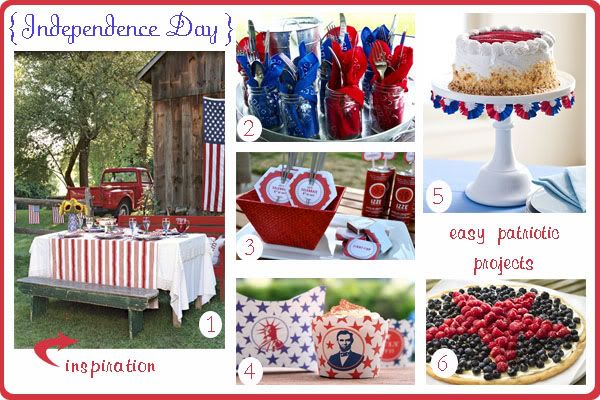 I adore the classic style of this
(1)
picnic from
Country Living
. It reminds me of summer days at my grandparents complete with picnic table, flags and pickup truck.
With this great idea from
A Soft Place to Land
, everything guests need to dig in are all in one place – silverware, bandana napkin and mason drinking jar
(2)
.
Talk about last minute! What could be simpler than printing out one of these 4th of July party sets from
(3)
Twig & Thistle
(matchbook wrappers, drink tags and labels for sparklers) and
(4)
Paper and Cake
(complete tablescape).
Give any cake stand festive flair with red, white and blue crepe paper bunting
(5)
from
Better Homes and Gardens
.
This cookie pizza
(6)
from
Pillsbury
is simple to put together, pretty to look at and even better to eat.
Finally, these cupcakes were intended for Father's Day but are oh-so-perfect for any summer grilling. I didn't put them on the board, but I just had to include them in my favorites this week, because who doesn't love cupcakes, especially when they are this amazing.
fyi:These are still easy to make; they use packaged ingredients.
Hamburger cupacakes and (sugar cookie!) fries from
Bakerella
...
Happy 4th of July everyone!