Here is a glimpse of what comes to my mind when I think about July. It looks like the theme is color and heat, heat and more heat!
Hydrangeas of any color are my absolute favorite flower. They have big, beautiful blooms and they can last forever.
I want to sip this raspberry lemonade by the pool or on the beach, because sometimes water just isn't good enough.
I'd pack the lemonade in this colorful, washable picnic basket and head outside for an early lunch.
The tomatoes from our garden are coming in by the handfuls now. I know it's summer when my husband tells me every day, "Don't forget you've got plenty of tomatoes to eat."
The first thing I reach for during the summer is a t-shirt. These bright options are comfortable and cute. A quirky necklace amps up the style.
I included an old-fashioned fainting sofa in a sunny hue. It would be awesome to have one sitting in my entry, because sometimes it really is that hot.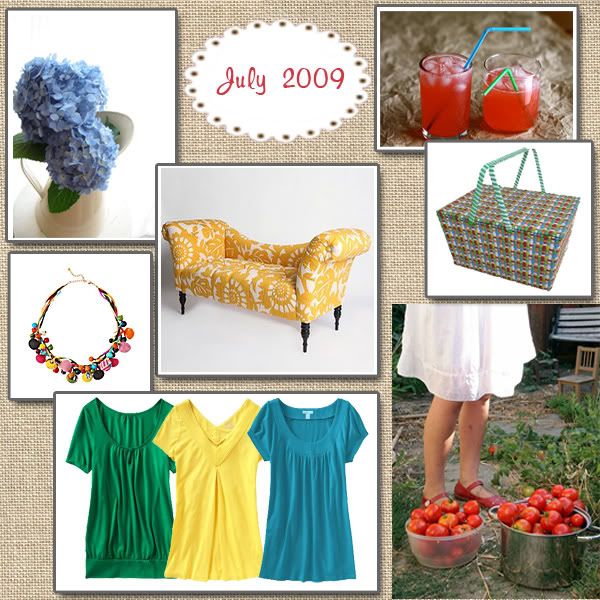 hydrangea photo from
mamako7070
raspberry lemonade from
Joy the Baker
woven picnic basket from
Target
tomatoes photo from
gwen
t-shirts from
Old Navy
bubblegum necklace from
Anthropologie
fainting sofa from
Urban Outfitters